What is Disinfectant fogging? 
Disinfectant fogging uses vaporized disinfectant chemicals with purified water to sterilize surfaces and the air where it's used. The chemical and water particles are fast-acting and dry within minutes. Our medical-grade disinfectant fogging does the following: 
Kills viruses and bacteria 

Kills fungi, mold, and allergens 

Odor control for food and smoke odors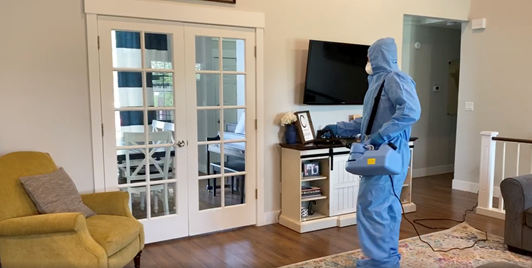 When should I disinfect my home or building?  
Disinfectant fogging can be done when someone is currently sick or has been sick in the home or building in order to help prevent the spread of air-born illnesses, including colds, flues, and viruses. 
Business Disinfection Service: Fogging your business can ensure the health and safety of your employees, customers, and vendors. 

Office Disinfection Service: Disinfecting your office spaces can prevent the spread of illnesses.   

Home Disinfection Service: Fogging your home can keep your family safe and healthy. 

Corona Cleaning Service: If you have had a case of coronavirus in your home or building, our fogging disinfectant service can clean and kill coronavirus contaminants to prevent the spread. Leave it to the professionals so you can stay safe!
We use the best equipment for the Best Results 
To ensure you get the best service possible, we use high-quality products and equipment. Our medical-grade disinfectant kills all bacteria and viruses, including coronavirus.
The fogging chemicals disinfect within seconds and dry within 5 minutes. The chemicals we use are food-safe and safe to use around electronics.
Put your mind at ease by disinfectant fogging your home or business. 
Bundle and Save! 
Bundle your carpet cleaning service in or air duct cleaning service with fogging disinfectant and get $45 off! Call for a free estimate: 208-881-4403
Pricing starts at $0.10 per square foot. For example, a 2000 sq. ft home would cost approximately $200 to fog. 
*Our minimum charge is $150 for smaller homes or apartments. 
*For large-scale buildings, pricing may vary.