Air Duct Cleaning Specialists
The best way to improve the air quality in your home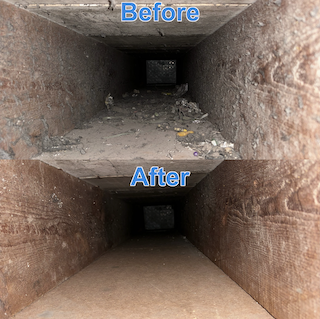 Why Have Your Air Ducts Cleaned 
When HVAC systems aren't cleaned properly on a regular basis, harmful particles accumulate in your system, which can aggravate asthma, seasonal allergies, hay fever, and other respiratory issues.
Air Duct Cleaning Process  
To ensure your HVAC system is cleaned thoroughly and properly, we recommend a 3 step system to leave your air ducts clean and safe, these steps will vary based on the air duct cleaning package you select. 
We start by showing you what your air ducts look like with our duct camera before we get to work so you can see the results. We also use this camera to look for any potential problems in your duct system. 

Our powerful and effective whip line penetrates every vent accompanied by our vacuuming system that extracts all duct debris. 

Once the vents are vacuumed, we recommend adding-on a non-toxic mist to clean and disinfect the system. This step eliminates potential bacteria, viruses, and germs in your system and leaves your home smelling great.
How much does air duct cleaning cost? 
The cost of air duct cleaning varies by the size of your HVAC system and the total number of vents in your home. It is best to call and receive a quote. We also offer commercial air duct cleaning, call or contact us for more information. 
Reliability at Its Best 
Dirty air ducts can cause your home's air quality to be more harmful than outdoor air. A clean HVAC system is an investment in your family's health. We understand the importance of customer service and are here to provide you with the best air duct cleaning experience. Our experienced duct cleaning technicians accompanied by our proprietary technology and non-toxic cleaning solutions will leave your home smelling and feeling clean. We service residential homes and commercial buildings in Eastern Idaho. 
Call us today to get a free quote!